Photographs: Allsport.
RED BARON II hits three !


---
In the absence of Red Baron Mark 1 who was off an a solo tour somewhere, Red Baron Mark 2 took centre stage on Saturday in a friendly game against International FC at Futako stadium.
Gillet,a relative newcomer to the Celts, scored not only his first goal for the Celts but his second and third too as the Celts ran out seven nil winners over a depleted International FC.
The Celts took a while to find their stride and indeed if it wasn't for their solid back four, in particular Doherty, they may have gone a goal down in the first twenty minutes. However, once Persson, who when given a chance invariably comes up with the goods, opened the scoring, the Celts moved up a gear and started running the show.
Conducting the midfield as ever, Mehigan showed no hesitation in burying a powerful header from a corner kick which left the Celts two up at half time.
Four changes were made at the interval and given that it was the middle of the summer it was gratifing to see such a strong squad out thus allowing the Celts to use their strength in depth.
Gillet got his hat-trick in the second half and two headed goals from Dermody and Dolan respectively brought the tally to seven. Indeed it could have been more but overall this was a solid performance and a useful August fixture in preparation for the more competitive games to come in Autumn.
As the players trooped off the field,they noticed that there was sight nor sound of Captain Fantastic (previously spotted doing a Sean Kelly impression around the stadium). If, as suspected, he was ensonced in O'Carolans then Red Baron Mark 1 will be issuing serious fines to the XXXXXX (Turn the sound up !)
Oh yeah, Cat Barry made a great save much to his and everyone elses astonishment !
Team: Barry, Mullane, Steele, Ryan, Doherty, Mehigan, Dermody, Murray, Cumiskey, Gillet,Persson
Subs: Dolan, O'Keeffe, Beattie, Conry,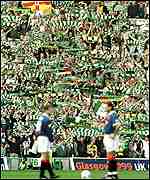 I think the opposition were a bit intimidated by our supporters.


Ireland's leading
rental co.
Est 1959
---


Sale: Companion fares to USA
---
---